March 27-28, 2020
New Orleans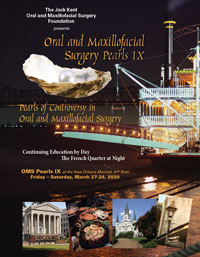 Dear OMS Colleagues:
Pearls in OMS sponsored by LSU OMS is March 27-28 in New Orleans this year. Please see the attached brochure with course and hotel registration.
This Pearls meeting may be the strongest of any Pearls meeting in many years.
It features Ed Ellis on Facial Trauma, Stu Lieblich on Anesthesia, Mark Fletcher on Dentoalveolar Surgery, Mike Block on Dental Implants, Jon Perenack on Facial Esthetic Surgery, and Lou Mercuri on TMJ Disorders and Surgery.
Look forward to seeing you in the Big Easy.
John N. Kent DDS, FACD, FICD
Boyd Professor and Head
Department of Oral and Maxillofacial Surgery
LSU School of Dentistry 1973-2002, 2003-8, 2012
LSU School of Medicine at Shreveport 1978-2003
Professor Emeritus, LSUSD and LSUHSC, New Orleans
Jkent1@lsuhsc.edu

Cell 504 430 3381