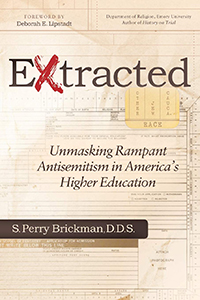 Dr. Perry Brickman, GSOMS Past President, founder of our GSOMS Educational Trust and recipient of our John Freihaut Lifetime Achievement Award, is the author of Extracted, a fascinating book that describes the antisemitism he and many other Jewish students experienced at Emory University's Dental School and the Atlanta Southern Dental College in the 1950's and early 60's. Also a part of the "racial quota" scheme was ADA's Council on Dental Education (CODE).
Perry's story is compelling in many ways but his relentless pursuit of the truth stands out throughout the tightly written text. Do yourself a favor and read this book.
You will be proud of Perry, ashamed of the leadership at Emory during that critical time in dental education but pleased with the end result of reconciliation and forgiveness.
Posted 2-2020