8-Night Amalfi and Dalmation Coast Cruise
September 13 – 20, 2018
"NIGHTS on US" Sale
Limited time only sale for the Azamara Cruise
BOOK NOW and get a $200 per person early-booking-bonus shipboard credit.
Sign up and make your deposit to take advantage of this sale.
Ocean View Room:
Original Price: $3,699 per person
Sale Price: $3,086.58 per person
Stateroom with Balcony:
Original Price: $4099 per person
Sale Price: $3,536.58 per person
Deposits are refundable except for $50 per person if you cancel before May 2018.
For more information, call Linda Kinsey at 770-949-1133 or 770-855-8244.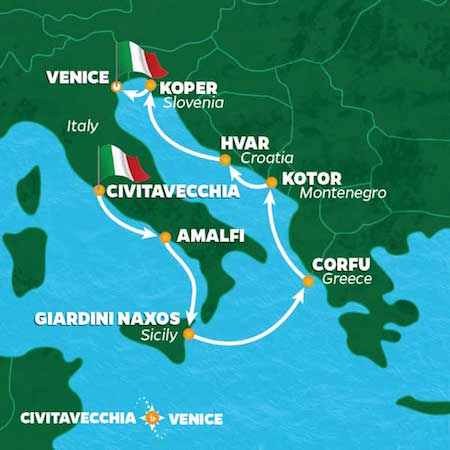 You'll love kicking off this voyage in Civitavecchia..The 793-passenger Quest provides a low-key cruise experience rather than high-tech, trendy amenities found on megaships. Think intimate cocktail bars, paneled dining rooms and afternoon tea in comfy surroundings.
Board the ship in Civitavecchia (Rome) then it's off to more classics. A classic thing to do in Amalfi is to rent a Fiat 500, the quintessential Italian car, and drive along the Amalfi coast, the quintessential Italian road. But drive slowly; the narrow lanes, switchback corners, and terrifying drop-offs make any other speed too frightening. The views are well worth the trip. Or take a tour and let someone else do the driving. And get a good night's sleep, for it's off to Taormina, Sicily next, where a cannoli tasting on top of Europe's largest active volcano is on tap.
On the Greek island of Corfu, wander the cobblestone streets of the Old Town, and then try a Greek coffee under the vaulted archways of the Liston. Or drive out to the countryside to Agni, the gourmet center of Corfu, and sample the pickled octopus in a classic taverna. On the Dalmatian Coast, tiny Kotor lies hidden from the open sea, tucked into a fjord. Visit the medieval Old Town and find any one of the splendid piazzas with boutiques and more octopus, grilled here with olives, tomatoes, and onions. And while in Kotor, experience an AzAmazing evening event included in your cruise.
After a stop at the charming island of Hvar, sail to Slovenia. A late night here gives time for a trip to the Škocjan Caves, the largest underground canyon in the world. Above ground, venture out to the capital of Ljubljana and ride the glass elevator up a wooded hill to Ljubljana Castle. After the views in the tower, find the bistro for Slovenian comfort food. But save room for the best pizza you've ever tried in Venice, on your last stop. Eight nights. Bountiful cultural opportunities. And did we mention the food?
Oceanview Stateroom – $3,699 per person
Balcony Stateroom – $4,099 per person
Other categories available. Deposit amount is $1,100 of which all is refundable except for $50 if cancelled before May 2018. No single supplement special.
| | | | | |
| --- | --- | --- | --- | --- |
| DATE | PORT/CITY | ACTIVITY | ARRIVAL | DEPART |
|  THU 13-SEP |  Civitavecchia (Rome), Italy |  Embark | |  6:00 pm |
|  FRI 14-SEP |  Amalfi, Italy |  Tendered |  7:30 am |  9:00 pm |
|  SAT 15-SEP |   Giardini Naxos (Taormina), Sicily, Italy |  Tendered |  12:00 pm |  6:30 pm |
|  SUN 16-SEP |  Corfu, Greece |  Docked |  1:00 pm |  10:00 pm |
|  MON 17-SEP |  Kotor, Montenegro |  Docked |  1:00 pm |  9:00 pm |
|  TUE 18-SEP |  Hvar, Croatia |  Tendered |  8:00 am |  4:00 pm |
|  WED 19-SEP |  Koper, Slovenia |  Docked |  9:00 am |  10:00 pm |
|  THU 20-SEP |  Venice, Italy |  Docked |  8:00 am | |
|  FRI 21-SEP |  Venice, Italy |  Debark | | |
---
Price includes: INCLUSIVE AMENITIES
All port charges and taxes
$100 shipboard credit per stateroom
Complimentary AzAmazing EveningsSM event
Select standard spirits, international beers and wines
Gratuities
Bottled water, soft drinks, specialty coffees and teas
Self-service laundry
Shuttle service to and from port communities, where available
Concierge services for personal guidance and reservations
Not included: Shore excursions