TRADITION, LEADERSHIP, EXCELLENCE,
CAMARADERIE & GOOD FUN –
The attributes of the Southeastern Society
by Jim Davis, President SSOMS 2016-2017
These are the qualities, the attributes and legacy that have developed and melded into to what is the Southeastern Society of Oral & Maxillofacial Surgeons. This didn't happen accidentally or serendipitously. It happened because a small group of men, men with a shared vision, early in the development of the specialty, joined together for professional and social reasons. And we today are lucky because they were men of substance, vision and affability. They had an idea of where they wanted to go as an organization. And they worked to put the pieces in place that allowed for the growth and development of this organization to where we are now. What a spectacular success it has been!
​
Opening Reception,
Left to right Drs. Lee Allen,
Thomas Indresano (AAOMS VP)
Ronnie Marks, and Mark Tucker

Scientific Program begins
with Dr. Bob Bosack
From my conversations with other dental and medical colleagues, those with whom I speak are amazed at what we do and how we do it. They are amazed at the spirit and collegiality of the group, at the quality of our continuing education, at the strength of our perpetual leadership, and, at the quality and magnificence of the venues which we visit. They are envious and quizzical as to just how we established the delightful tradition that we enjoy.
Again, our success and good fortune did not "just happen". It took involvement and work to create what we have enjoyed for the last few decades. Our predecessors did not sit on the sidelines and watch. They worked to develop skills, and they shared those skills and insights with their colleagues. They worked to develop a society that exuded leadership, excellence, service, camaraderie and, in the process, they interacted professionally and personally, all which led to further success and good fun. Their professional success led to financial success and, thereby, the ability to enjoy the level of adventure, amenities, and service that we are enjoying this very day.

Left to right, Dr. Gary Morris,
President Jim Davis, and
Dr. Mark Steinberg
Welcome new members:
Drs. Romeo Laureano,
Nicole Eisenberg, Tom Goodwin,
Brian Cherry, and Brandon Cannon. Not pictured:
Drs. Italo DiPrisco and Robert Hunsaker
Several generations have experienced the benefits and joys of this success. But, there are pervasive indicators that there may be a change in the attitudes and goals of our younger generations that are creating ripples of concern regarding the future of organizations such as ours. There are indicators that suggest that the younger members of our, and other, professions just may not appreciate or enjoy what we all have experienced over the years. And they just may not, on their own, seek us out or apply for membership.
For more photos view our photo gallery>>
If that is true, and it appears that it is, this and other organizations likely have a bit of a problem going forward. This perceived trend has many implications for all organizations like ours. In the end, as this plays out, the effects could be fatal for some groups. If not fatal, it at least affects the condition of the organizations, their effectiveness, ability to fulfill their mission, and their function as reservoirs of knowledge, their "esprit de corps", and that very important function of providing a good place for nurturing personal professional relationships and activity.
So, what can we do? The answer is NOTHING, nothing at all. Unless we take action ourselves, each on, personally, and make contact with one of our younger colleagues. Take the initiative when you get home and personally contact, visit, dine with, and extol! the virtues of this Southeastern Society of ours. You know why you come to this meeting.
Now go tell others why. Bring them in! It's our only hope for a vital healthy, effective and enjoyable organization in the future. Tradition, Leadership, Excellence, Service, Camaraderie, and Good Fun. Spread that message. We'll all be better off if we do! If we don't, a great legacy may be lost.
---
Thank You Sponsors!
KLS Martin
OMSNIC
Straumann
BioHorizons
Matson Money
---
Thanks For Your Support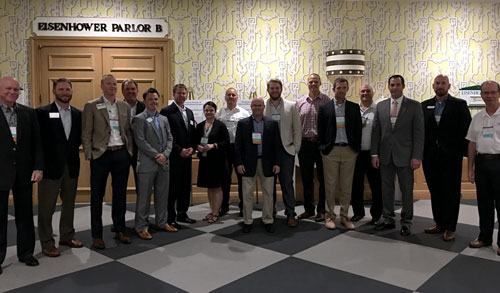 MedPro
ProMed Sales
BioHorizons
OMSNIC
Straumann
Preferred Med Solutions
KLS Martin
OMS Vision
Snoasis Medical
Salvin Dental
Zimmer Biomet
Pacira Pharmaceuticals
Styrker
X-Nav Tech
Rhinogram